44% Off

44% Off

44% Off

44% Off




44% Off
Are you a waxing salon or retail store?
Want to be a stockist?Apply Today
Details
Already in love with our Unscented body wash? Get 2 bottles and save 10%. Spa Day is made with a delicate blend of natural derived ingredients that will soothe and hydrate skin, such as aloe vera, jojoba oil, and glycerin. This PH-Balanced body wash is formulated to use everywhere, including intimate areas.

Spa Day is our signature mood-boosting scent with a fresh blend of citrus and luxurious notes of eucalyptus.
2x Spa Day Nourishing Body Wash
cleanse + nourish (12.17 fl. oz. / 360 mL)
Use in the Shower
Add a small amount to the palm of your hand and rub all over until the body wash begins to foam.
Recommended Areas
Bikini line, underarms, legs, neck or anywhere else skin needs cleansing and hydration. Safe for down there, and everywhere.
After one use
Clean, hydrated skin
After continuous use
Over time the powerhouse ingredients will leave you hydrated, nourished and glowing. Additionally, the inclusion of Vitamin E richly nourishes the skin, while protecting the skin's moisture barrier.


Customer Reviews
Write a Review
Ask a Question
03/01/2022
Meredith

Canada
New daily body wash obsession
Over the course of the pandemic, I've gotten even more into showers as a means of relaxing (if that's possible). If I can justify it, I'll shower twice a day – once for cleanliness in the morning, once for relaxation at night. Keeping that in mind, both these new body washes (especially the scented one, which makes you feel clean AND relaxed) are in heavy rotation these days. I wasn't sure if the Spa Day wash would match my vibe because I'm usually a floral-scented girl, but the citrus and eucalyptus are so subtle, refreshing, and soothing. The product (both unscented and scented) lathers beautifully and washes off without making your skin feel stripped or dry at all. I feel like I should save my bottles and ration them out because I love them so much, but I just can't contain myself (also sorry but HOW cute is the packaging?!) I 10000% suggest buying these, whether you're a longtime BB consumer like I am or whether you're new to Bushbalm's products :)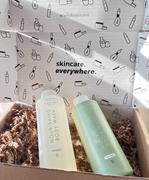 Frequently Asked Questions
Spa day is our signature mood boosting scent with a fresh blend of citrus and luxurious notes of eucalyptus. Unscented is made without a scent for those with extra sensitive skin.
The pH level of the skin refers to how acidic or alkaline the skin is on a scale from 1-14. On the pH scale, 7 is neutral, below 7 is acidic (0 being the most acidic), and above 7 is alkaline (14 being the most alkaline).
Our Nourishing Body Wash is pH balanced, gyno approved, and formulated with the beauty powerhouse ingredient aloe vera.